Lasik MD
Your Guide to LASIK Eye Surgery
Procedures
Epi-LASIK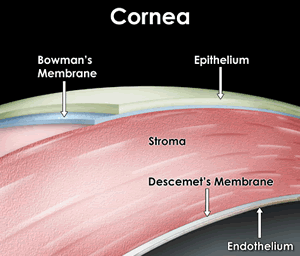 The layers of the cornea.
In the early days of LASEK, surgeons were optimistic that removing the epithelium as an intact sheet and replacing it after the laser treatment would lead to a more rapid and comfortable visual recovery, with a decreased likelihood of corneal haze.
However, aside from a modest increase in comfort, the overall recovery proved remarkably similar to PRK. The reason for this apparent lack of progress is now thought to be the alcohol solution used to create the epithelial sheet. While the alcohol loosens the epithelium from Bowman's membrane and allows the formation of an intact sheet, it destroys the individual cells that make up the sheet. Therefore, the actual healing still takes place when new cells grow in from the periphery, just like with PRK.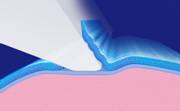 An epithelial separator pushing the epithelium off of Bowman's membrane.
Epi-LASIK is the most recent method of flapless laser vision correction. With Epi-LASIK, a blunt plastic "epithelial separator" is used to push a sheet of epithelium off of Bowman's membrane. Surgeons hope that Epi-LASIK will allow the removal of an intact sheet without destroying the individual cells. However, early results have been mixed. Some surgeons believe recovery is a bit faster and more comfortable with Epi-LASIK, while others don't think it is substantially different from LASEK or PRK.
Find a LASIK surgeon you can trust: