Lasik MD
Your Guide to LASIK Eye Surgery
Procedures
LASEK
One of the shortcomings of PRK is that it leaves a large area on the surface of the eye devoid of epithelium. Often, this results in significant discomfort for three to five days, until new epithelium grows in from the periphery. In addition, in the time before the epithelium regenerates, the tear film is in direct contact with the laser treated surface, which may increase the likelihood of haze.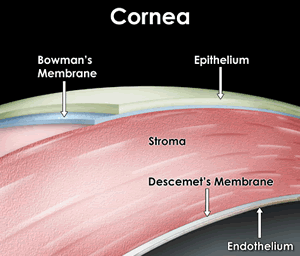 The layers of the cornea.
LASEK was developed to address the shortcomings of PRK by removing the epithelium as one large sheet that is replaced after the laser treatment. As the first step of LASEK, a circular trough of approximately 9mm diameter is held firmly against the cornea and then filled with an alcohol solution. After 30 to 45 seconds, the solution is removed from the trough with a small sponge.
The alcohol loosens the attachments between the epithelium and Bowman's membrane, so a round epithelial sheet of 9mm diameter will simply slide off. Later, after the laser treatment, the sheet is put back over the treated area and a contact lens is placed over the eye to help hold it down.
Find a LASIK surgeon you can trust: