Lasik MD
Your Guide to LASIK Eye Surgery
Procedures
IntraLASIK (All-Laser LASIK)
With IntraLASIK, also known as "All-laser LASIK", a corneal flap is created with a laser manufactured by Intralase Inc. and the laser treatment is placed on the exposed stromal layer.
As with standard LASIK, a circular ring is centered on the cornea and held in place via vacuum. The vacuum causes a pressure sensation and temporarily dims the vision.
Once the ring is in place, the surgeon uses a joystick controller to lower a cone-shaped apparatus down through the opening in the ring. This process is known as docking. (The ring is not shown in any of the accompanying pictures.)
At the bottom of the cone is a glass plate that rests on the cornea. While looking through the surgical microscope, the surgeon is able to see the eye through the glass plate.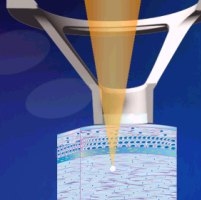 The docking process is complete and the cone's glass plate rests on the corneal surface. A laser pulse strikes the stromal layer.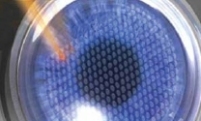 The surgeon's view of an Intralase laser creating a corneal flap.
The Intralase laser focuses tiny pulses of energy in the stromal layer beneath the corneal surface. By placing thousands of spots very close together, a plane of separation is created. The pulses are then stacked along the edge of the flap up to the corneal surface to complete the flap.
Each pulse of the Intralase laser creates a small bubble of water vapor and carbon dioxide in a process known as photodisruption. The bubbles appear to the surgeon as an area of slight opacification. Some surgeons lift the flap and perform the vision correction laser treatment just as soon as the Intralase laser finishes making the flap, while others pause for 10-15 minutes to allow the bubble layer to dissipate.
After the flap is lifted, IntraLASIK proceeds just like standard LASIK. The laser treatment is placed on the exposed stromal bed, the treated area is rinsed and the flap is smoothed back into place.
Find a LASIK surgeon you can trust: