Lasik MD
Your Guide to LASIK Eye Surgery
Procedures
Introduction
LASIK is the most familiar laser vision correction procedure, but it is by no means the only one commonly performed. In fact, many surgeons prefer alternatives such as IntraLASIK (all-laser LASIK), PRK, LASEK and epi-LASIK.
Because these procedures vary significantly in terms of risk profile, comfort level and recovery time, let's take a look at each one in greater detail.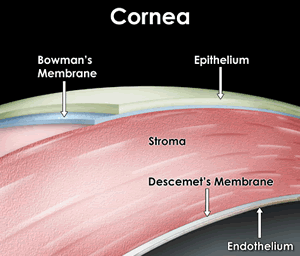 The defining difference between the various procedures lies in the layer of the cornea that is treated and how that layer is exposed.
With LASIK and IntraLASIK, a thin corneal flap is lifted away from the underlying layers. The plane of separation lies in the stroma, so the flap contains epithelium, Bowman's membrane and superficial stromal layers. The exposed surface is known as the stromal bed. This is where the laser treatment is placed. Afterwards, the flap is repositioned over the stromal bed.
With LASIK, a mechanical device known as a microkeratome creates the flap, while with IntraLASIK, the flap is created with a flap-making laser manufactured by Intralase Inc.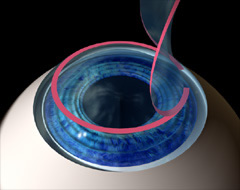 With flap procedures, the flap is lifted and the laser treatment is placed on the exposed corneal stroma.
With flapless procedures, the laser treatment is placed on the Bowman's membrane. In order to expose this layer, the overlying epithelium must be removed. The flapless procedures include PRK, LASEK and epi-LASIK. These procedures differ based on the technique used to remove the epithelium.
Find a LASIK surgeon you can trust: